More bars in Charleston's nightlife corridor may have ID scanners ahead of the busy holiday season to combat underage drinking.
Charleston City Council on Nov. 19, 22 unanimously approved the award of $40,000 for a contract with mobile ID scanning app Intellicheck.
As part of a six-month pilot program starting in December, bar owners on King Street and surrounding areas of the peninsula will be able to download the app for free to scan the identity on mobile phones used by bouncers. The software detects whether an ID is authentic or not.
Half of the funding will come from city hospitality tax funds and the other half will be provided by the visitor and convention bureau, Explore Charleston. The $40,000 will cover service subscriptions for 31 coffee shop owners for six months. At the end of the pilot period, bar owners can decide for themselves whether they want to continue their subscriptions.
"I think we're going to see a more managed crowd, which won't get out of hand," said Doug Warner, vice president of Media and Innovation at Explore Charleston. "This is our hope."
Lt. Jim Byrne of the Charleston Police Department said he hopes bar owners will continue to use the service after the six-month trial ends. The department already has several subscriptions to the Intellicheck, which allows officers to scan ID documents while working on King Street. Bouncers sometimes ask CPD officers to scan a suspicious ID when their scan is inconclusive or they don't have a scanner of their own, Byrne said.
"Hopefully some of them see the value," Byrne said. "The coffee shop industry is moving towards greater accountability and places the burden of having a safe environment not only on the police but also on the business itself."
The Charleston Department of Business Services has conducted outreach efforts over the past three months to find coffee shop owners interested in signing up for the service. It's close to finding takers for all 31 subscriptions, business services director Meg Thompson said.
Part of the appeal for the mobile app over a traditional scanner is that the app's software updates as more information about fake identification technology is gathered.
"Learn. … As fake IDs get more advanced, he's able to adapt," said Councilor Mike Seekings. The research led to the effort to start the pilot program.
El Jefe Cantina owner Roy Neal first brought the technology to the attention of the city council in August. He said that if more bar owners on King Street knew about it and had some incentive to start using it, they would find it useful.
"It's the best app on the market," Neal said at an August board meeting.
The measure is part of the Charleston Police Department's larger King Street safety plan.
In recent years, the city has faced shootings and major brawls in the area and has worked to balance growing safety requirements with concerns about the knock-on effects on business owners and personal freedoms.
In August, the council approved revisions to the Late Night Establishments Ordinance, which imposes certain safety requirements on all businesses that sell alcohol after midnight. The city established the permit program in 2013 and began requiring all businesses to submit safety plans to the city in order to receive a permit to sell alcohol after midnight. The new version of the ordinance takes effect on January 1. 1.
The new version of the ordinance allows the city to revoke a bar or club's nightclub permit for repeated violations. This way the business should close at midnight. Before it gets to that point, however, the company can meet with city staff to come up with a recovery plan.
Charleston City Councilman Robert Mitchell, whose borough covers parts of Upper King Street, said making the scanning app available will help bar owners more easily spot fake IDs. Bar owners who knowingly allow underage drinking won't have the excuse of not knowing a customer is under 21.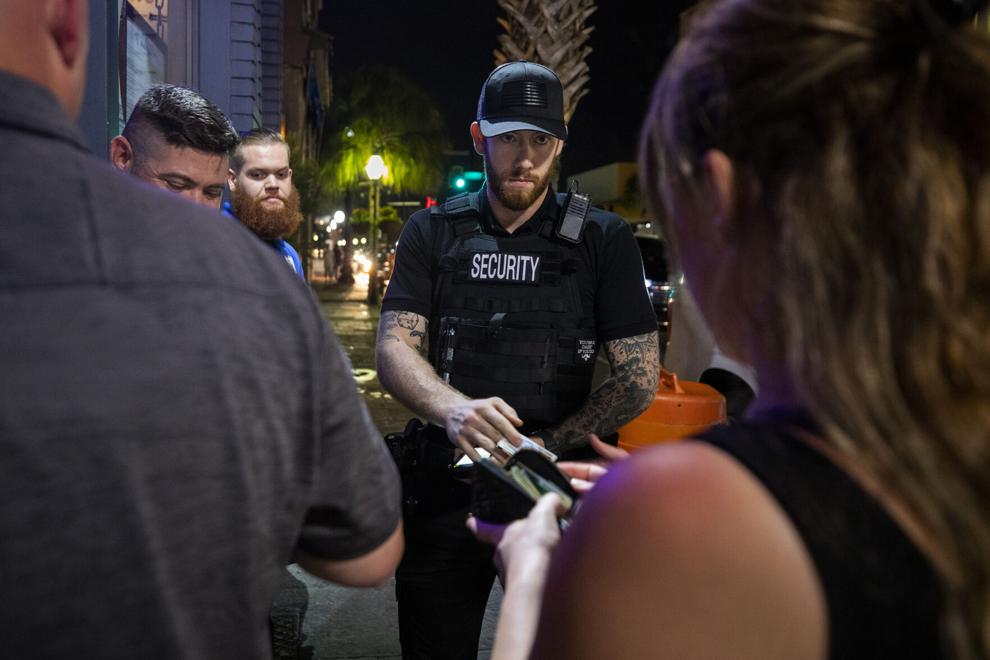 "If more companies are able to do this and they don't join, they're going to get in trouble," Mitchell said.
In another ongoing effort, the city made permanent changes to traffic flow in October.
Parking on King Street is restricted from Spring Streets to Calhoun on Thursday, Friday and Saturday nights from 6pm to 3am
On the same days and times, traffic on King Street flows one-way from Spring to John Streets, with two-way traffic permitted between John Street and Calhoun Streets to allow for access to car parks.
Scope Emma Walen at 843-708-5837. Follow her on Twitter @_emma_whalen.